Sudan fighting: Khartoum violence mapped as civilians flee city
Life in Sudan's capital Khartoum has been turned on its head.
Once a vibrant metropolis, residents are now living in a war zone. Sudan's army and the paramilitary Rapid Support Forces (RSF) are locked in brutal street combat as helicopters and fighter jets roar overhead.
Information coming out of the city is patchy, and access for journalists is difficult in a country where media freedom is already restricted.
But the BBC has combed through dozens of videos, mapped the fighting, and spoken to some of the city's 5.4 million residents to uncover how air strikes and artillery have devastated the heart of Khartoum.
One of them, Dallia Mohamed Abdelmoniem, said the "empty frightened streets" made Khartoum feel like a ghost town, with people "huddled in their houses not knowing what's going to happen next".
Fighting traps civilians in their homes
The BBC has verified videos from Sudan by checking details such as local weather patterns and the positions of visible landmarks including roads, roofs and rivers.
We have been able to locate some of the heaviest fighting, including gun battles and the use of tanks, to heavily populated areas.
Civilians have been badly affected because many targets such as military headquarters and the presidential palace are close to people's homes.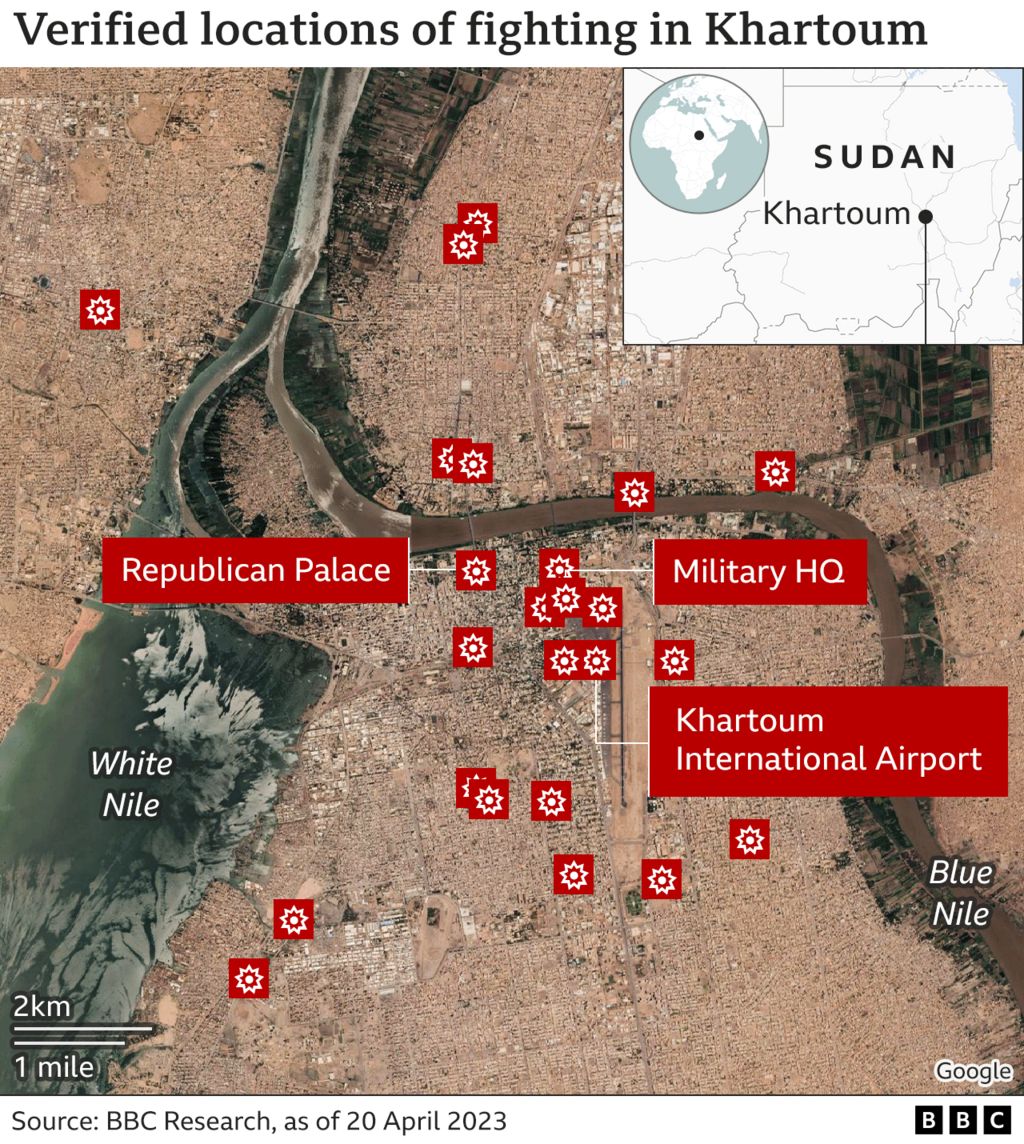 As you can see from the satellite image above, almost all of central Khartoum – south of the Blue Nile – is densely populated. So is Khartoum North, where fighting is also taking place.
Monzir Bashir, a journalist based in Khartoum North, told the BBC he could hear explosions "from all directions" and that he had seen at least four people shot "near the well we bring water from" on Wednesday.
Heba, a Khartoum resident, said that brief lulls between the explosions and gunfire seemed to last an eternity.
"We now fear the silence more than the sounds of the clashes," she said. "Because after the pause, there are even louder bangs."
Below are three verified videos from the city in the past few days.
In the first, a video from Khartoum's Al-Sahafa neighbourhood on Friday shows a black smoke cloud rising over the airport there. The video shows how close residents are to the fighting: Khartoum's international airport is right in the middle of the city, near to several residential areas, hospitals and schools.  Read full article on BBC Website…